Reports of the death of the office are greatly exaggerated, but employees' needs are evolving
June 2021
The return to the office has already begun with four out of five saying some colleagues are back.

A vast majority want and are being offered flexible working options when it comes to returning to offices or staying working remotely.

Nearly one in two expect companies to increase office space rather than reduce it although a sizable minority (32 per cent) say they expect a reduction in office space.
Nearly nine out of 10 workers want
to have the option to work remotely once offices reopen,
according to new findings from
OpenSensors
, a technology company that provides data driven workplace transformation solutions.
The results of a major new survey show that a similar level of employees (90.5 per cent) are being offered
the option to pursue remote working post-COVID19.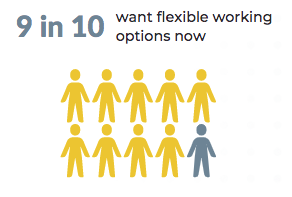 OpenSensors Return to work survey 2021
Many might predict this spells the end of the office but according to the survey n
early half (47 per cent) also said
they expected their companies' real estate portfolio to be increased as a result of COVID19 with a third saying it will reduce.
While demand for hybrid working is clearly on the rise owing to shifts in expectations prompted by the pandemic, companies face a challenging period to meet rising demands for new office set-ups. Nearly nine in 10 workers (88 per cent) shared that they were changing office layouts.
More than half of respondents were changing office setups by increasing collaboration space and adding bookable seats, with 44 percent also adding booking systems.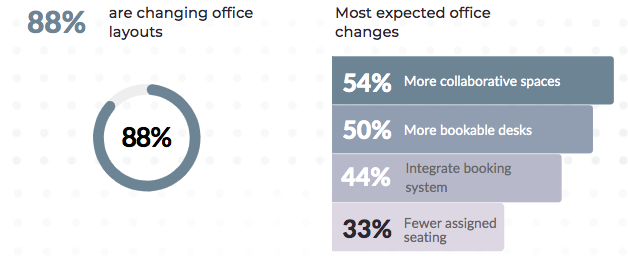 OpenSensors Return to work survey 2021
Hybrid working, where employees spend part of their time in the office and the rest either at home or elsewhere is on the rise. EY has
become the latest major employer
to say its 17,000 staff must work from home at least part of the time while the c.3000 employees of fintech banking app Revolut were told in March that they can choose to be fully remote if they wish as well as spend up to 60 days abroad each year.
While managers are keen to encourage workers back to offices, those employees opting to come in have specific new demands.
Aside from the adequate provision of PPE, the most popular factors cited as having the greatest impact on employee health and safety related to air quality. One in two said that both monitoring air quality and adding air filters had the greatest impact for example.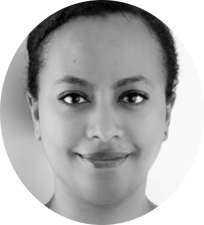 Yodit Stanton, CEO and founder of OpenSensors, commented: "Companies need to figure out how to use their real estate better. The demand for flexible working too often overlooks that many employees want to return, at least in part to the office but, crucially, they expect to see changes in the environment of office life."
"Companies need guidance on how to adapt work-life balance, space and office setups to help support teams and workers alike," she added.
"In particular these changes include improving air quality, monitoring and managing space occupancy, automating booking and more."
"What's clear is that there is no one size fits all approach for the optimal workplace setup. Companies need new information and insights to support their office and team."
"Now is the start of a new era of the data driven office to help companies and employees find the right setup and balance."
The survey also revealed that majority companies rely on manual surveys (68 per cent) and employee feedback (58 per cent) to manage space, rather than actual space, occupancy and utilisation technologies.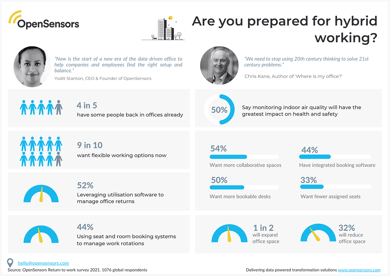 OpenSensors, Return to work survey of 1076+ global respondents May 2021