Reading time: 9 minutes
Activity-based working (ABW) is about providing employees with a range of options for how they carry out their activities in the workspace. Instead of every employee having a fixed desk, which they are expected to use for every task, ABW provides spaces for informal or formal meetings, collaborative and open areas for project work as well as quieter spaces for tasks that require more focus. The flexible workspace is one of 2019's key trends.
Why activity-based working matters
It's not just about giving employees a more comfortable way to get their work done, though there's certainly no harm in that. According to the Harvard Business Review, the most highly engaged employees score highly for 'being able to choose where to work according to the task at hand'.
A Leesman Index report found that employees who agree that 'I [...] rarely based myself at a single location within the office' are more effective in their jobs than their more static colleagues'.
An evolving workforce
The way that we work is changing as millennials make up a significant proportion of the workforce, bringing with them expectations of more autonomy and flexibility, so the trend towards ABW will only continue. But it isn't just employees who benefit. Employers, facilities managers and commercial real estate providers will see benefits too.
We can't easily add space and in high demand cities office space is extraordinarily expensive, so we need to make more effective use of the space that we have and ABW allows that. In an environment where you will never have all of your workers at their desks at the same time, there's no reason to have a desk for everyone. Of course, you can't just take desks away without a plan.
Getting started
Most facility and corporate real estate teams are moving away from manual surveys to determine how their building spaces are being used. Manual surveys are generally time consuming as somebody has to observe the office to see how space is being utilised, then process that data and produce reports. On top of this they only provide a single snapshot of space utilisation, which could be incomplete and not representative.
Choosing the right occupancy sensor(s)
Instead, more and more facility and corporate real estate teams are using passive infrared sensors (PIR) to capture and measure utilisation rates. PIR sensors detect heat and motion; and can measure the utilisation of:
Desks
Meeting rooms
Phone booths
Shared spaces
Lifts or stairways
Different building locations
These sensors are unobtrusive, always on and produce accurate data that can be analysed in a variety of different ways, such as:
Utilisation comparison between buildings, floors, departments or teams
Average utilisation rates of desk, meeting rooms or shared spaces
Identify peak vs. off peak utilisation rates
Help determine and increase person to desk ratio if needed
Inform workspace redesign projects, such as right sizing meeting rooms
There are other types of workspace occupancy sensors depending on the business need but in our experience this is the most popular.
This method of measuring utilisation brings the added advantage of not having to rely on what people think is happening, such as complaints that the office lacks sufficient meeting room space. However, with concrete data in hand you often find that there is plenty of space, only it isn't used efficiently. People book big meeting rooms for small meetings or block book two hours for a 45 minute meeting.
Understanding the ideal network required for smart buildings
Before embarking on any project, it's important to understand the different network options available and what will be suitable for the business need. There's less than a handful of network options such as wifi or bluetooth but they fall down when it comes to reliability of transmitting signals from sensors to gateways.
Recommended network
The recommended global standard is LoRaWAN network and devices. They provide exceptional range and an open standard allowing seamless interoperability between different manufacturer's devices. It can be public or private and provides end to end device security as well as cost efficiencies.
You can find out more about the 3 key technical designs to create Smarter Workspaces.
Start gathering data and make small changes
Take iterative steps to change.
Step 1: Start gathering data using sensors
Step 2: Based on the data, build hypotheses to improve the metric you intend to improve. Typically we see organisations looking to convert traditional one person one desk environments into a shared working environment. Knowing the teams that utilise their desk space less than others is crucial as these are often the departments to encourage to utilise hot desks.
Step 3: Implement the changes
Step 4: It is crucial to ask for employee feedback to assess the human elements and also to track productivity following changes.


Finally start the process again & continue to capture data.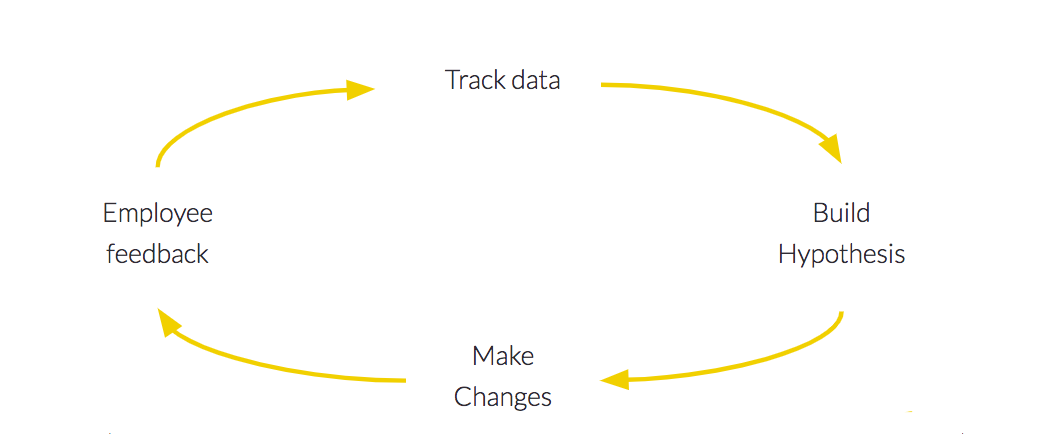 Even with a 10% increase in efficient utilisation of space can mean significant cost savings so the cost of deploying a workspace occupancy program pays for itself.
Using data to drive strategic decisions
The data will allow you to improve the person to desk ratio, based on actual usage data, rather than guesstimates, which makes it less likely that employees will be frustrated when searching for a free desk.
It will help you to determine whether your office space is as flexible as it needs to be. Perhaps you need to redesign with more, smaller meeting rooms or add phone booth style cubicles so that employees can enjoy some privacy and not clog the corridors when making a call.
By establishing your peaks and quiet times, you can assess whether different teams and departments are working on the best schedule. Perhaps the office is over capacity on Mondays because everyone has their team meeting that day, for example. In which case, staggering the meetings across the week might be the answer.
Crucially, concrete data will allow you to validate your plan for your office space and get continuous feedback as time goes on. Usage patterns are not fixed, and the modern workplace needs to be capable of changing as quickly as working patterns change.
Key takeaways
ABW provides a working environment that better suits modern employees, while also utilising space more effectively for employers.
Start gathering data and make small changes - get a full picture of how your workspace or building is being utilised before making operational changes.
Use the data to inform your ABW roll out, making small changes along the way and gather employee feedback to assess the success of your plan.
Need more advice?