Reading time: 7 minutes
With the growing demand to better manage workspace occupancy, Corporate Real Estate and Facilities teams are increasingly challenged to optimise space management, track utilisation and backup real estate investments with data. We explore how one tech company used sensor technology to improve their workspace management process and solve the 'how much space do I need' conundrum.
The challenge
A Regional Manager of one of the largest travel tech company found himself getting increasingly frustrated by the unending demands for more space but equally by seeing the space half empty most of the time.
He wanted hard data that would give him an objective view to help solve the problem of 'how much space do I need?'. His situation was made more complex by having acquired a number of companies over the years, all with their own separate real estate contracts. Both legacy leasing and new real estate plans were based on more guesswork than real data. It was particularly important to take guesswork out of occupancy as these contracts were going to impact them for the next 10 to 15 years.
The approach
They chose to partner with OpenSensors and Resource At Work to implement sensor technology to minimise real estate costs and have data to help manage and plan prime floor space as the company was rapidly growing.
Working collaboratively they first scoped out the business requirements, KPIs and other key metrics. OpenSensors and Resource At Work helped Mark identify the two types of sensors that would meet his requirements. The project was piloted with a selected number of workspaces over a short period to ensure Mark got the best value from the data and validate the business case to implement the technology as part of their space planning management process.
1. Desk sensors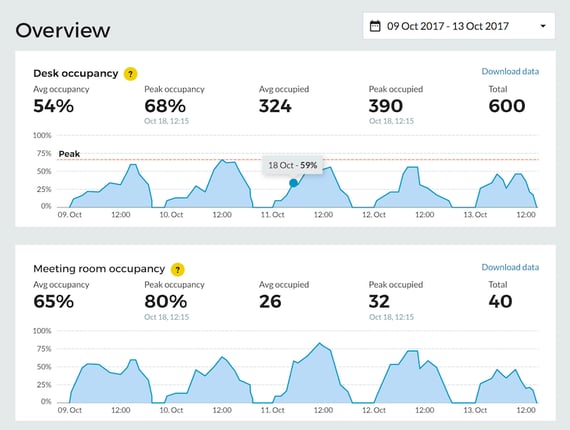 PIR - These desk sensors are passive infrared sensors (PIR) which are triggered by both motion and heat.
Anonymous - No personal or health information of an individual is captured. The data is anonymised to illustrate utilisation.
Real time - Data is captured immediately and transmitted to a cloud based platform. Users are able to see in real time how space is utilised.
Placement - Installed under desks they are out of sight so they're not disruptive to employees.
Graph 1 illustrates a snapshot of the users dashboard highlighting desk and meeting room occupancy over a selected time frame, detailing average and peak utilisation.
Graph 1: Desk and meeting room occupancy rates
2. Meeting room sensors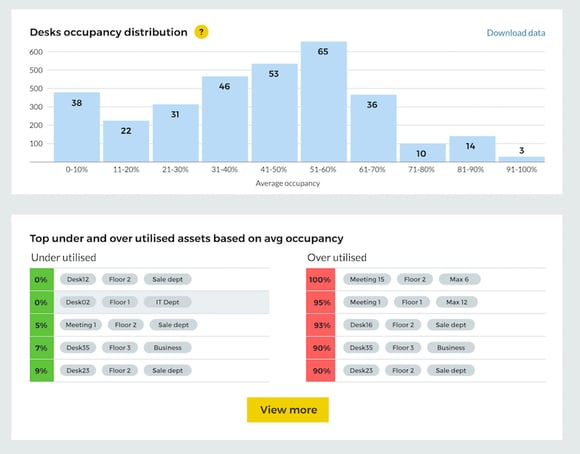 People count - Meeting room sensors count the number of people using individual meeting rooms.
Discrete - the devices are small in size and discretely placed so they do not disrupt employees who are using the meeting rooms.
Real time - Similar to desk sensors, data is captured immediately and transmitted to a cloud based platform where users can see in real time which room are being utilised.
Graph 2 illustrates a snapshot of the users' dashboard displaying the average desk utilisation rates over a selected period. Insights from this can help identify for example, the number of fixed spaces that can be turned into flexible desks to increase desk ratio from 1:1 to 1:2.
Graph 2: Desk occupancy distribution chart illustrating under and over utilised facilities
3. Sensor deployment process
Deployment planning - In order to ensure a seamless installation, CAD drawings, location data and floor information were collated from Mark to identify where gateways would be placed and sensor IDs mapped to the drawings so it would reflect on their dashboard.
Site assessment - The installation team visited the site to t

est signal quality on every floor where gateways would be installed as well as walk the perimeter of the building to ensure there was strong signal strength.

Preparation - To ensure very little configuration is needed on site during deployment, much prep work was done by OpenSensors ahead of time so there was minimal disruption to employees. They were able to efficiently install and turn on the sensors as well as

quickly identify if they were successfully connected to the network. For more information on the deployment process, check out the recent

blogpost

by Kevin Mugadza.
The Impact
The success of the pilot has led to a complete implementation program of sensors over 200 desks across 6 floors. Mark and his team are now better equipped to fully understand space planning management and have a complete picture of occupancy utilisation, streamlining their work and ensuring support for all business units.
Taking the guess work out of occupancy - When Mark's team is met with demands to provide bigger workspaces to accommodate a growing workforce, he is able to use the occupancy data to dig into the real problem

and find a workable solution, before deciding to invest more money on new leases and office space.

Aligning goals and costs

- Using occupancy data has helped align business unit leaders' goals and costs, resulting in better space utilisation without additional cost.

Negotiating with other teams to drive up utilisation - Mark was able to quickly identify that more than half the desks were under utilised a majority of the time, resulting in huge cost wastage for the company. With factual and objective evidence in hand he was able to have better conversations with other business teams to work on plans to drive up utilisation rates.
Workspace redesign - The data provided Mark and the facilities team knowledge to develop a needs based redesign plan. The data showed that whilst meeting rooms were often booked they were not always used, leaving them unoccupied and unavailable to other employees. Rooms were also being booked up by single individuals which left larger groups with no space to hold meetings. Based on this insight they were able to redesign the office to add more individual spaces to free up meeting rooms for larger groups.
Want to find out more on workspace occupancy sensors?
Learn more about how we help customers get a complete picture of workspace occupancy with our workplace utilisation data software to plan for future property investments.