Reading time: 8 minutes
In part 1 of our
Top 7 mistakes to avoid
, we covered the first 3 things to avoid when designing an agile workspace, which included:
Focusing on project management instead of change management
Miscalculating desk sharing ratios
Excluding individuals and teams from workplace change programs
In this episode, we'll cover the additional 4 elements that can make or break any agile workspace program.
4. Workplace technology failing to keep up with agile working change
Technology is increasingly transforming the way businesses operate, simultaneously resulting in growing share of dispersed workforce (that working anytime, anywhere concept continues to take hold) and cross functional collaboration. Where this new highly digital and increasingly virtual workplace is not supported by the right technological infrastructure, it fails to be efficient.
Modern workplace technology rapidly evolves and encompasses a great many solutions with varied complexity and workplace applications. The most basic essentials enabling the way most organisations work today are:
Team collaboration platforms
Meeting room and desk booking systems
Live views of shared and hotelling space availability
Many of these technologies use API integration. More advanced workplace technologies involve IoT technologies like connected devices and building services - think smart environmental sensors adjusting temperature, humidity and CO2 levels as well as Machine Learning and AI technologies.
Cloud and mobile based VR (Virtual Reality) and AR (Augmented Reality) has the potential to become the next big thing in workplace technology and design according to a recent research
of the industry landscape,
with Zoom and other platforms already exploring its application for video conferencing. The cost and ROI considerations remain a major limitation for the technology's wider adoption though.
5. Overlooking the basics: Furniture and storage
As workplace becomes agile and functional zoning of space changes, the basic physical infrastructure such as furniture and storage also needs to change to support new ways of work.
Storage is particularly important for Activity Based Working programs as no one is going to keep their things on or under their desks any more. The best storage is mobile and reconfigurable to meet the changing storage demands across various floors and teams.
Secondly, the size of personal storage needs to be adequate so inconvenient storage doesn't add up to a (long) list of employee frustrations at the initial stage of transitioning to agile working. I have seen really small lockers (think your local swimming pool's changing rooms but worse), and lockers placed so high on top of each other that one needs to develop almost professional acrobatic skills to use the space allocated to them.
Some options for good storage solutions are:
Tool kit or mobile storage
Shared team storage
Roller racking storage
If many staff cycle to work then bigger storage for helmets are essential, not to mention that bicycle parking needs to be thought through.
Agile furniture planning is perhaps even trickier. Quality modern furniture with integrated sockets and soft seating with decent and hard working upholstery might not be cheap, but attractive, inviting and ergonomically designed furniture are some of the elements that really make or break an activity based working project.
Agile environments entail active use of collaborative furniture so it's important that the right type of seating as well as screens, partitions and other flexible space design solutions are put in the right places or zones with visual privacy and noise level considerations in mind.

6. Over densifying it

Increasing office density and reducing the space per workstation and per employee, has been one of the most common ways for organisations to respond to growing occupancy costs, in particular in expensive locations and those with growing job markets like London, Seattle or San Francisco.
Across the key office markets in Asia, the average static office density fell to 50-110 sf per desk by 2015, according to
CBRE report.
This jeopardises employee productivity and puts talent retention at risk as employers struggle to provide their staff with the a right balance of personal, communal and break out space.
According to Space Matters report by Cushman & Wakefield, the national average USF in the United States has lost 8.3% since 2009; and in some locations with growing job market and stagnating office supply, is now down to 135 sf per employee.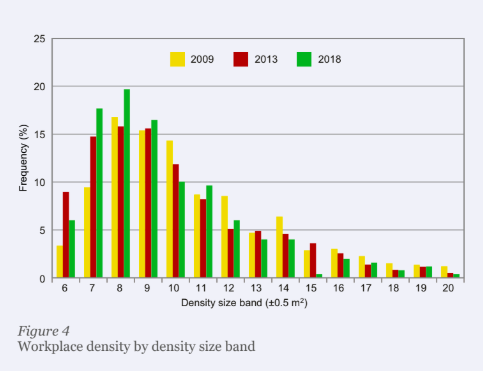 However, the average US spatial density standard is generous compared to workspace density in the UK. A comprehensive 2018 study by
British Council for Offices
demonstrates that:
Over 60% of all surveyed open space desks nationwide fall within the 8–12 m2 range
46% fall within the 8–10 m2 range
Around one-quarter of all desks fall the <8 m2 category
Figure 1: Workplace Density dynamics in the UK, BCO 2018
All three reports cited above argue that after years of workspace densification, it has perhaps reached its limits so there is a noticeable slowdown in densification pace and even some reverse trends observed in certain locations.
This increase is a result of a growing adoption of Activity Based Working where employees benefit from a large variety of alternative work and meeting spaces. Another factor boosting USF per seat metric, is a rising share of office space allocated to amenities such as cafe and wellness space that double up as work and collaboration settings, a powerful trend propelled by advent of co-working and flexible space models.
In well planned agile working environments, increasing area per work point and flat or shrinking dynamic density (area per employee) that remain between 80-200 sq ft per person in agile environments, are the two sides of the ABW adoption. It means that popular densification strategies such as adoption of benching or replacing desks with more (and smaller!) workstations in the open plan areas need to be combined with adequate provision of alternative settings.
UK Health and Safety regulations
dating to pre-agile era stipulates the minimum requirement of 11 cubic meters per employee in a room, which is not very helpful guidelines for designing variable work settings but needs to be accounted for.
Sharing is emerging as a new density and where workspace is designed empathically, shared space works hard to drive an organisation's performance without compromising employee experience and productivity.
7. Prioritising design over evidence based solutions
With so many sleek and innovative office interior ideas and furniture designs available, it is all too easy to lose focus on what agile designs would work for your organisation based on your objectives and spatial strategies.
The key to balancing the efficiency with design aesthetics is not to succumb to the power of architectural photography and not to let yourself be carried away by cool futuristic furniture or beautiful wall panels your interior designer company pitches to you.
Keep your hard data and user insights at the core of your strategy and vision for layout and density. And then maybe you can still have that vertical garden wall you loved.
Here are just some examples where companies, in particular the Tech sector have taken the idea of putting fun back into the workplace through unconventional meeting rooms designs.

Key takeaways
Here are some of the key takeaways from analysis of the common mistakes in agile working design:
Reduction in size of private space or densification would not impair employee productivity if supplemented with increases in shared space and amenities. Emphatic office design is a cornerstone of agile working.
Both physical and technology infrastructure in your workplace need to keep up with changes in the ways your organisation and people work and collaborate.
Robust prior research into your organisation's workplace factors and evidence based strategies need to be informing design and choice of furniture for agile environment and not just office design trends
Want to learn more about workplace strategies?